In keeping with my last Irish post and the occurrence of Saint Patrick's Day, I want to interrupt the scheduled post I promised from New Hampshire.
Today, I received and interesting article from my Irish friend Mary Glasheen.*
It recounts the story of one of the Irishmen who came to America to join the military and fight with us in Vietnam.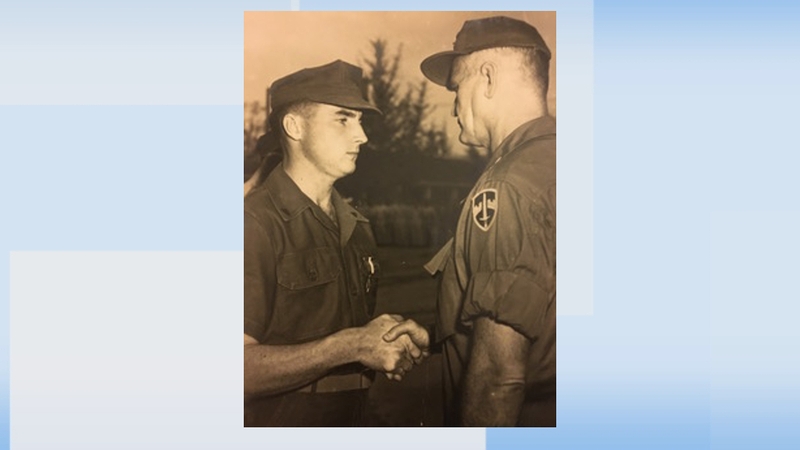 Patrick Gallagher with Gen. William Westmoreland
"By
Pat McGrath
Western Correspondent
A US Navy Destroyer is to be named in honour of a Mayo man who died in the Vietnam War.
Corporal Patrick "Bob" Gallagher grew up in Derrintogher, outside Ballyhaunis and emigrated to the US in 1963.
He joined the US Marines and was nearing the end of a tour of duty in Vietnam, when he was killed in an ambush on 30 March 1967.
Relatives and former colleagues have been campaigning to have a US Navy vessel named in his honour for a number of years.
This afternoon, the US Navy confirmed that, having reviewed the case, it has been decided to recognise the "exemplary service in defence of the nation" that was undertaken by Corporal Gallagher.
The decision follows extensive deliberation at the Pentagon in recent months.
The USS Gallagher will be a guided missile destroyer and will be the newest such vessel in the American marine fleet.
A US Navy spokesperson told RTÉ News that the valour displayed by Corporal Gallagher clearly warranted the honour.
Describing his service as an example to all service men and women, the US Navy said the public campaign and a review of the Mayo native's record was central to the decision.
The news has been welcomed by his brother, Peter, who lives at the family home.
Corporal Gallagher was buried in Ballyhaunis, with full US military honours, following his death.
His grave bears the distinctive white headstone, typical of those of deceased US service personnel.
Members of the US Marines visit the plot each year and a special ceremony was held there last year to mark the 50th anniversary of his death."
If I am able to find other stories of our Irish brothers and sisters I will certainly post them here. As you already know, 30 Irish citizens were lost supporting our efforts in 'Nam. including Nurse Pam Donovan, one of the eight women listed upon The Wall.
Next time, on the 20th, I will post the aforementioned New Hampshire memorial.
To see other memorials from any state, please click the state name on the left side of this page.
* If ever in Ireland check out Mary, she is wonderful person and can set up marvelous tours through her company, Glasheen's Coaches.